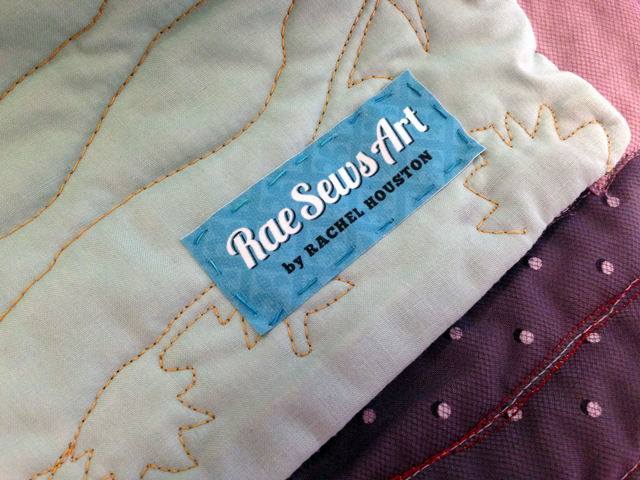 I have created years and years worth of artwork and rarely thought about signing it.  Granted, many of the most productive years I was a student, but unless an ornery professor put up a fight, or a patron insisted, I never signed my work. Big mistake!
5 Reasons to Always Sign Your Work
A signature shows that you APPROVE the work. In simple terms:


…signing a print is a really big deal! It's like signing a check — if you didn't write the check, and you don't have the funds to back it up, you wouldn't sign it. Right? Same thing with prints.
Epic Edits

 The work can be considered finished when it has a signature.
 Artist Identification is so much easier with a signature. 100 years later, will they know your quilts by the individual dog or cat hair they found? (almost kidding!)
Value may be added to the piece when signed.
Free artist publicity.
Rich Tradition of Quilt Labels, Meet Fine Art
For literally hundreds of years, quilters have often included labels on the back of their quilts.  These labels can name the:
title of the quilt
quilt maker (who designed and pieced the quilt)
quilter
year it was finished
special occasion or gifting reason
Shown in this post about traditional quilt labeling techniques, most quilt labels are more practical information than artistic flourish. Sometimes, you will essentially find a small love letter to the recipient on the back of the quilt. I understand how investing dozens of hours in a quilt can translate to an emotional response, and this can be a beautiful thing.
My favorite traditional labels reflect the style of the quilt and give pertinent information, like the quilt label on this collaborative Etsy quilt.
All this to say, art quilting treads the line between traditional folk art and fine art, so where does that put the artist's signature?
Suggestions for Signing Art Quilts
Always include your signature. If this is not a printed label, find some consistency—although it is OK to practice and refine early on in your career!
Sign on the back. Many contemporary collectors and fine artists, like Joanne Mattera, explain that the current trend, as far as big signatures with lots of information, places the artist signature on the back side of the piece.
Include a label as a small art composition in itself, like this original quilt label by Mad Cat Quilts. If you design something complex, make sure it doesn't stand out from the design of the quilt and take attention away from the piece. This adds character and quality to the piece!
Date the signature if possible. This gives cultural and individual context.
---
My Current Practice
I have designed a small, sew-on label with my branding. More importantly, it also includes my full name. I ordered and recieved great service from this Etsy shop for labels! The label is easy to recognize and easy to find when sewn on to the back of my quilts. If I ever change my branding, then my first body of work will be easy to identify.
Recently, framing quilts has made new challenges, because the back is impossible to see! I have two solutions. Framed flush, without a mat, I simply glue the label on the back of the frame, exactly where it would be on the back of the quilt, if it was exposed.
Framing a quilt with a mat behind it is my new favorite way to present a quilt.  (tutorial coming soon!) Obviously, there are limitations of size, this works best with mini-quilts. I am addressing this like a printmaker! Because the quilt is sewn on to the mat, I sign in archival, acid free ink, right on the mat. The signature is right below the bottom right corner of the piece, while the title and date are under the left bottom corner.
The big message is, as long as you keep it consistent with your artistic style, please sign your work!
I would love to hear your thoughts or challenges surrounding the signing of art quilt.