I've been very busy in the studio, which is remarkable because of the dreary weather we've been having that absolutely gets me down! The past week or so I started a new series of children's crown quilts, more on that later… In that time I also worked on three other small quilts.
I am excited to share another Balloon Fiesta quilt, this one is a mini, that will be matted and framed. I am on a framing kick, some clients of mine had requested that and it's growing on me!  There are one or two downsides to framing, like the time investment, cost of the actual frame (which raises the overall cost) and they are harder to photograph in a frame.  But the quilts just look so darn professional framed, and that, friends, is hard to argue with!
And now… the new art quilt inspired by the brave balloons of the Albuquerque International Balloon Fiesta Dawn Patrol!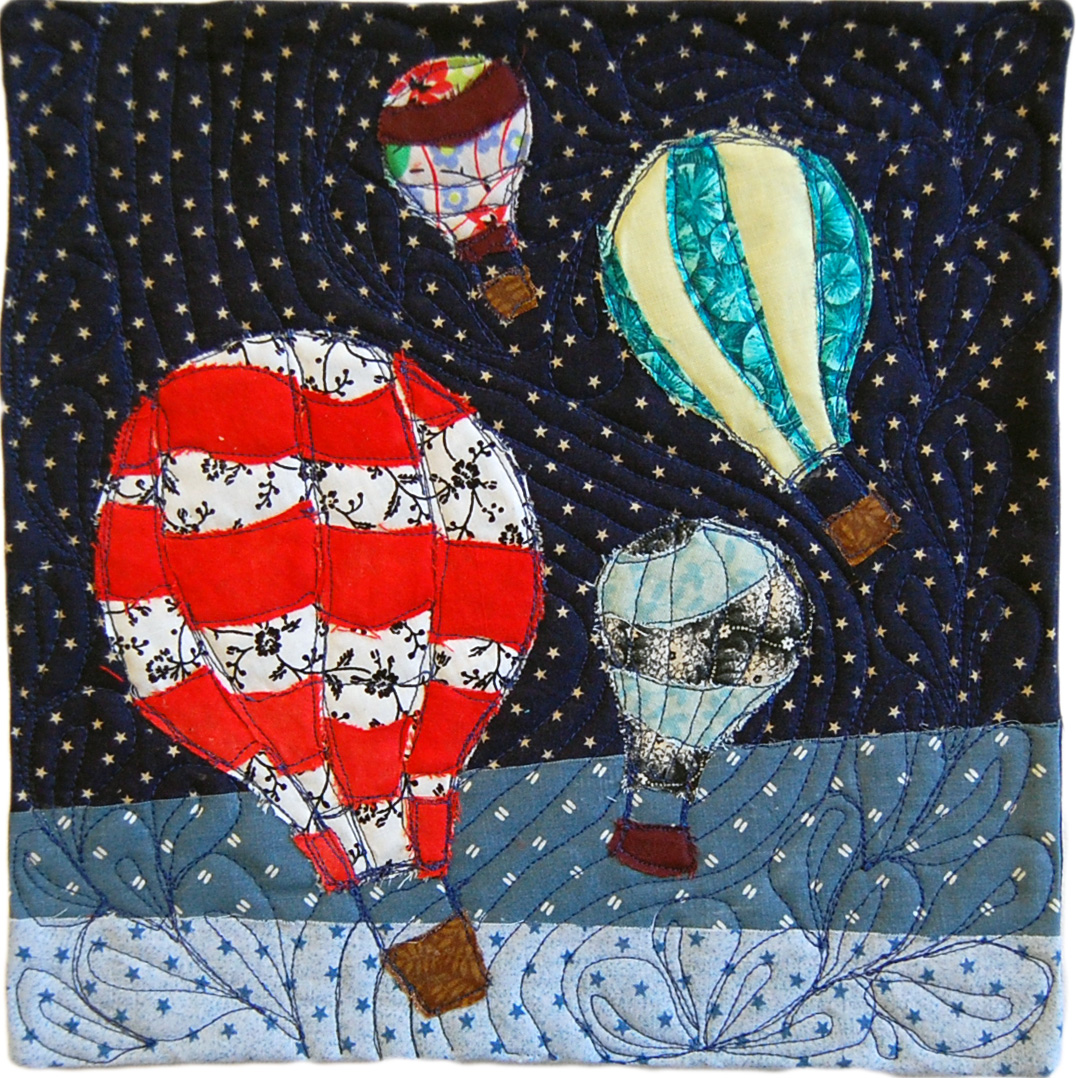 This guy is super tiny, as far as quilts go!  He's about 10 inches squared.  I am working on art that can be framed but still be affordable for anybody that needs a Rae Sews Art original. Plus– if your house is anything like mine, there is not a ton of extra wall space for more art! Ha!
Dawn Patrol Hot Air Balloons
The Dawn Patrol is a small group of balloons that leave the field early to explore weather and wind conditions for the hundreds of other balloons. It seems so brave to launch in the dark hours of the morning before anyone know what to expect.  Although you can still see the stars when they are taking off, the glow from the balloon burners is a really beautiful light against the darkness. Isn't that a lovely reminder that there is always light in the darkness? Even when I get down on winter, or discouraged by my productivity, there is that still small voice that is really bigger than any winter, goal, or darkness!
Please comment with your favorite things that help to beat the winter blues!