Saturday was my first ever, completely legitimate, no arguing about it, craft show experience. I kind of fell into the opportunity; a new friend I made at the Dutchtown Better Block event encouraged me to join in on the fun last minute. Wow–I'm SO glad I did!
A Lovely Fall Setting
The Garden Heights Art Walk was at a beautiful nursery in St. Louis. All the staff were supper friendly and helpful. They encouraged us to integrate the plants into our booths, so I grabbed a few pumpkins! Because Fall.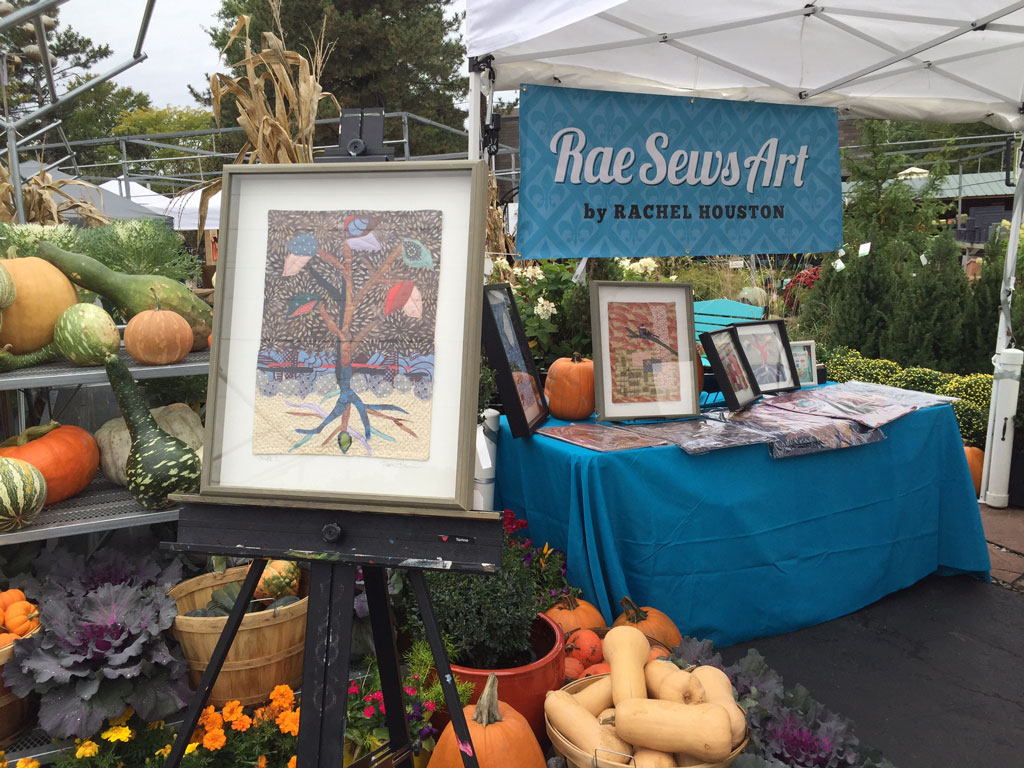 I was so happy to prepare for this show that I made a new plant inspired piece, and it sold quickly! Check my Instagram (@raesewsart) to keep up with new pieces and WIPs!
All in the Details
Planning out the details is what got me most excited for Saturday. It was things like my great banner, the one that my husband made for me. I also was thrilled to take the next step and order (not rent) table linens to match my branding! I have had good experiences renting, but MAN, it gets expensive. I found an awesome linens website with really helpful tools to help me figure out which size to order. They drop to the perfect height. The tablecloths shipped super fast and I am thrilled that I don't have to return them!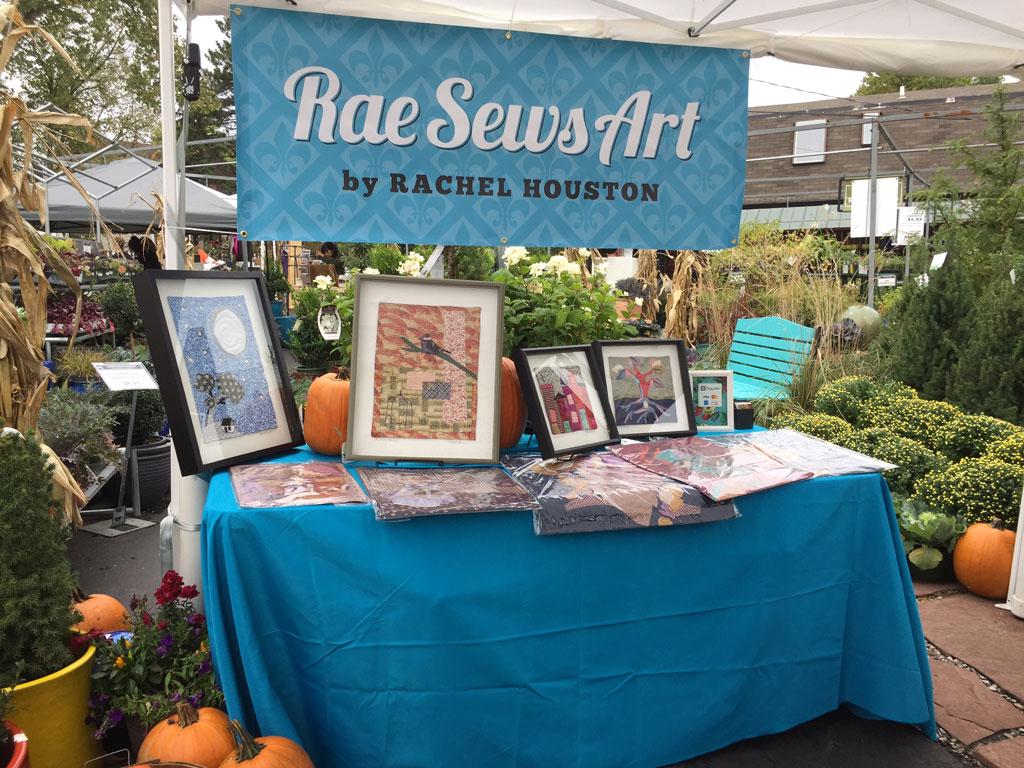 Tips from a Beginner
I learned some really important things the first time around.
Bring a TALL chair. At the end of the day, you will regret having to stand, no matter how social you want to appear. It is good to be on the same eye level as your customers though.
Weather! Preparing for weather includes weights for wind, rain protection, and sunscreen. It all happened in one day, and I'm sure that won't be the last time!
Introverts will be worn out! (And that is okay.) Most people think of me as an extrovert because I'm so darn outgoing, but the TRUTH is… I'm an outgoing introvert. I gave myself a bunch of down time Saturday night to recuperate, and I know that was a very healthy decision. I have no idea how introverted crafties do two day shows!
Examples of commissioned works lead to more commissions. Thanks to my dear friend, I had compiled a portfolio book of sorts to refer to when people ask about custom artwork. It was so useful Saturday, to have images to show and talk about. Mine isn't fancy, it's just a scrapbook, but it gets the point across.
Display is everything. All the pieces I sold were framed and propped up, so they were easier to imagine hanging on your wall. In future shows, I will definitely focus on more graphic displays that are easier to see from far across a fair!
I couldn't have asked for a more successful day, in the end I sold all but one of my framed pieces. My storage bins were much lighter on the trip home! I am so grateful to Magan of Needle Nouveau for sharing her tent with me, and advice. Thanks to Garden Heights Nursery for hosting, and Allison for getting me involved! All told, I would definitely participate in an art/craft fair again!