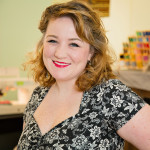 There is so much extraordinary grace and art that surrounds us in the little details of life. It can be found in a friendship, a cityscape, or in the crisp pages of a book. If I can capture a small reflection of a simple, beautiful thing, then I have done something good!
My grandmother taught me to use a sewing machine before I was old enough to drive a car. I learned on one of those wonderful, mint-green, built into a cabinet, solid metal Singer machines. More important than the fundamentals of sewing and quilting however, I like to think I received the artistic genes in my body straight from her.
I have a BFA in Studio Art, but I have also lived a life drenched in love, support, and encouragement, giving me things worthwhile to portray with those skills I learned.
Art Quilting Studio magazine featured my art in 2013 and 2014, and I have also shown in multiple area galleries, including a solo exhibition entitled "Odyssey."
My quilts are a little bit of tradition meets wild and playful. Quilting is rich with history and character, which I love! Meanwhile, my color choices and energetic compositions are meant to make the art more accessible and contemporary.
I hope you can relate, and I hope you enjoy the view!
–Rae
Education
BFA: UMSL
Magna Cum Laude (2011)
Solo exhibitions:
Group exhibitions: